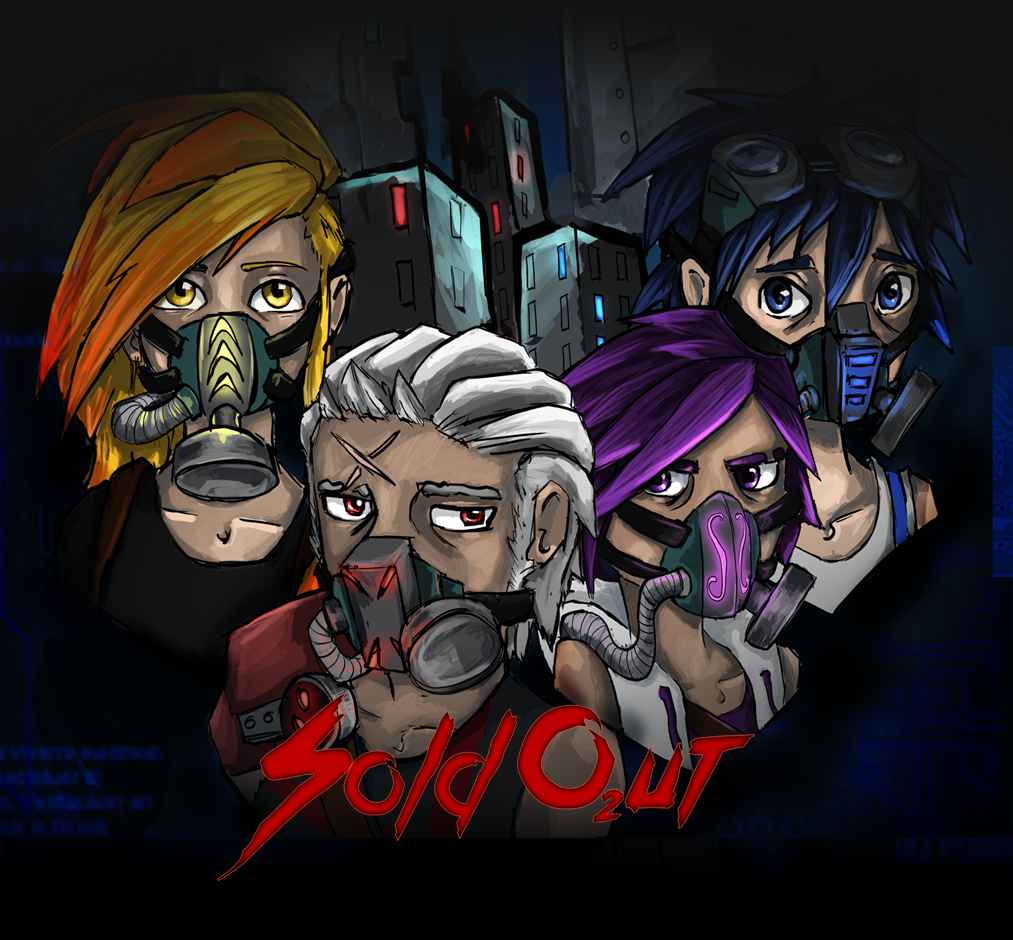 Sold O2ut
A downloadable game for Windows
The Game
Picture Robin Hood and his merry men, but they are in a cyberpunk dystopia where oxygen is commercialized and where you can juggle your enemies like volley balls. This is Sold O2ut, a cooperative-centric beat'em up with rpg and platforming elements and a big focus on narrative. The objective in this game is to give a breath of fresh air to the Beat'em up genre.
Sold O2ut tells the story of four rebels who live in a city enclosed under a dome for hundred of years. This has caused the air to become toxic and has forced the citizens to wear oxygen tanks. But the company which handles them is corrupt, and sells them at a very high price. The rebels, a group called Aer, are fed up with this and decide they have to change things, stealing tanks from the company to give them to the poor. But they do not know what awaits them at the end of the road...
The main focus of the game is combat. Not only will you find character-specific combos, but you will be able to try out our own new combat system called VCS, or Volley Combat System. With this, you can pass your ennemies to your allies, throw them to the air and Smash them to the ground!

The Team
We are SandBloom Studio. A little indie studio based near Barcelona. We do game out of passion and love for what we do. The six of us come from different backgrounds but all share this need to create our own games. If you want to know more about us, get on over to our team page or to our website!
State of the Project
Sold O2ut is still in development and is currently on hold. We as a team have been working on this project for a long time now and we found out that the project was too big for us. We saw that, although we still love the game and want to keep working on it, we need funding to be able to finish it. That's why we are now presenting the project to publishers and investors about helping us with Sold O2ut.

The game is supposed to be six levels long, and we currently have one of the levels finished. We also want to have four working playable characters. Two of them are in-game for now and one of them is almost finished.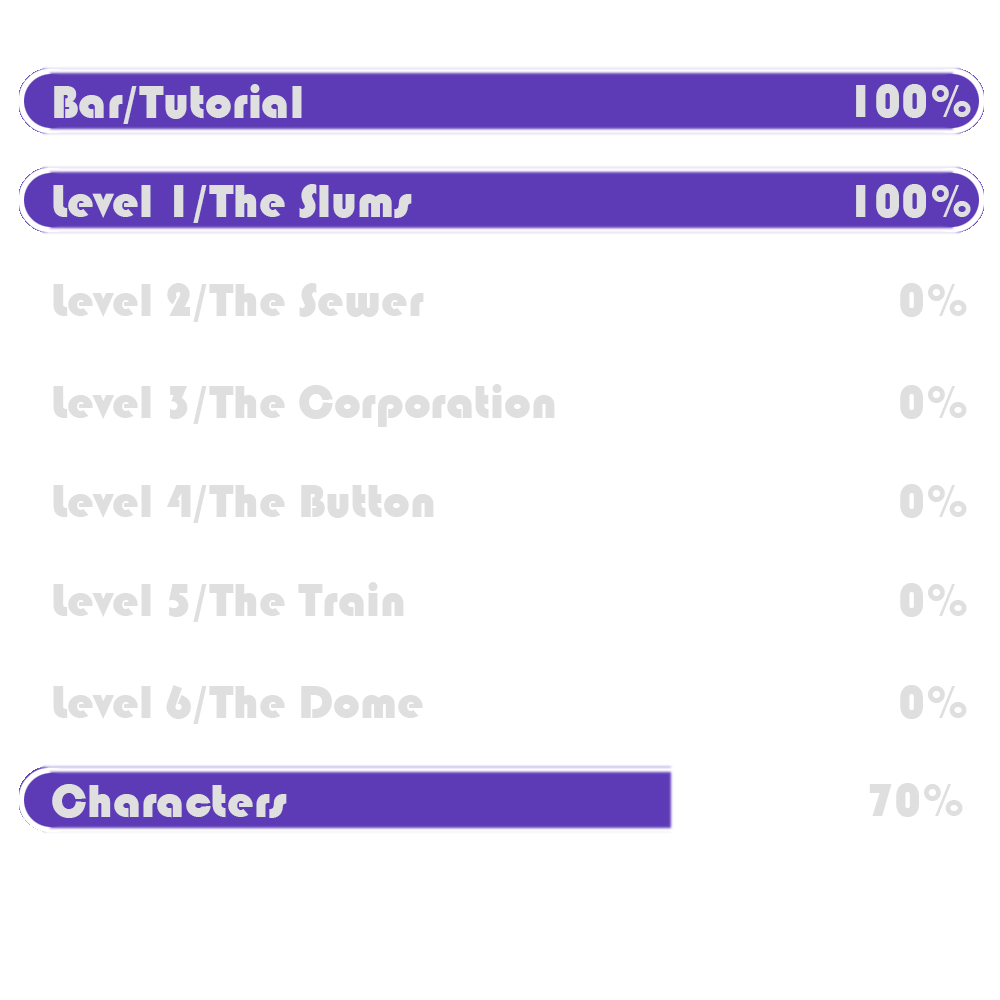 What now?
Well, you get to play the demo! Exciting isn't it?
We've recently been having very good reception for Sold O2ut. Not only from players at conventions, but also from different indie game journalists like OrgulloGamer, ElbotonSelect, Isla de Monos... Moreover, we participated in the PSTalents competition (a competition derived from Sony held for Indie games in Spain). We arrived to the finals and were nominated for best multiplayer game!



That's why we think that putting Sold O2ut on hold is not a bad thing. For us and for you. For one thing, we get to learn more from other projects that we can later apply to Sold O2ut. But most importantly, we finally get to really share our demo. Not only can you play it, but you can have a copy of the game for free (or the price you decide). We value your feedback on Sold O2ut very much as it will help us improve inmensely and it will show us what parts of the game you like or not.

Here's to hoping you enjoy the project, and thanks a lot for reading and/or playing. Any questions or comments, feel free to tell us something in the comments or over on twitter, instagram, facebookor by mail!
Updates
You can now play the game on Windows 7!

You can also play it completely with a keyboard (since now you couldn't block or revive allies.

| | |
| --- | --- |
| Status | In development |
| Platforms | Windows |
| Publisher | Looking for one |
| Rating | |
| Author | SandBloom Studio |
| Genre | Action, Platformer, Role Playing |
| Made with | Unity |
| Tags | 3D, Action-Adventure, Beat 'em up, Co-op, Cyberpunk, Local Co-Op, Local multiplayer, Unity |
| Average session | About a half-hour |
| Languages | English |
| Inputs | Xbox controller, Gamepad (any), Playstation controller |
| Accessibility | Subtitles |
| Multiplayer | Local multiplayer |
| Player count | 1 - 2 |
Install instructions
You're almost there! Just download the .zip file, extract it and launch it with "Sold O2ut" file.
WARNING:
Although playing with gamepad is highly recommended, you can play Sold O2ut with a keyboard. We will shortly include a document in the downloaded folder. For now, you can see the controls here:
WASD → Movement
2 (numpad) → Jump / Confirm (menus)
4 (numpad) → Hit
6 (numpad) → Push / Return (menus)
7 (numpad) → Revive Ally

8 (numpad) → Special ability
9 (numpad) → Block

ENTER → Pause
Hope you enjoy the game!

Comments
Log in with itch.io to leave a comment.
If there's one thing I like, it's games with melee combat or hand-to-hand combat. And if there's another thing I like, It's co-op games, regardless of if they're online, couch play ( everyone plays on the same device ), or LAN ( everyone plays on the same internet connection ). If there's another ANOTHER thing I like, it's story games ( As I prefer to have to follow a story rather than just get sent into a world to do what I want to do ). Mix those, and what do you get? This, a perfect couch play co-op, cyberpunk/futuristic styled game with hand-to-hand combat and combos, and a story which feels like when taking out a fresh, perfectly baked bread out of the oven. I have yet to play this game, but I guarantee I'll have a blast with it. For an indie game, it looks amazing, and I know the developers are working hard on the other 2 characters and the other 5 levels. I hope they see this and take it as words of encouragement to keep working on the game, as making a game isn't easy.
I hope they sell it in Itchio
Hey!!! Thank you for trying it out! And glad you liked it. Seems like the game ran a little low on frames for you, sorry for that :s